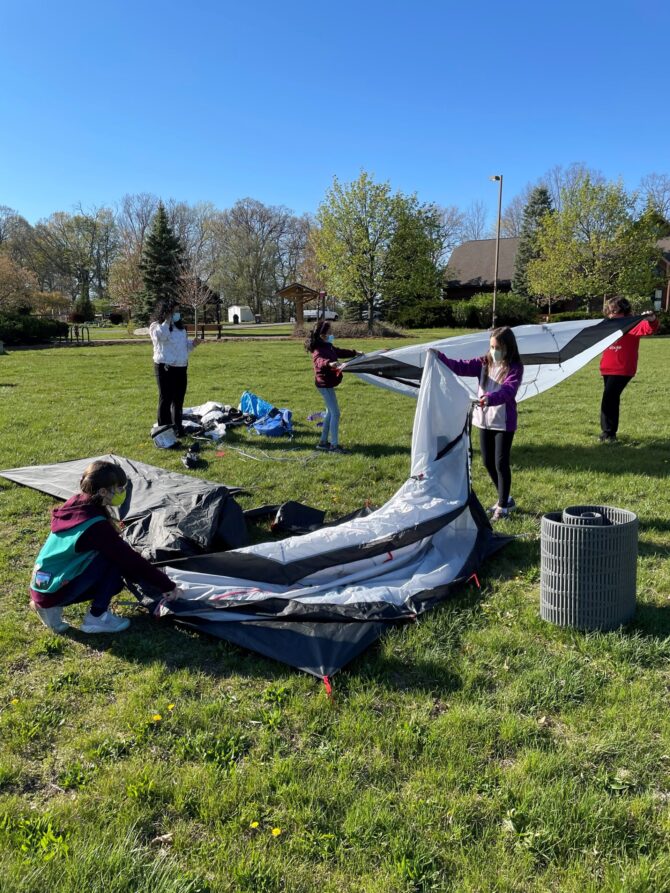 Unplug from the "Real World" with Every Girl in a Tent
We're celebrating Girl Scouts' 100-year-plus camping legacy and we want you to take part! Challenge yourself to experience the outdoors by spending a night under the stars AND earn an exclusive glow-in-the-dark Every Girl in a Tent Patch for any outdoor overnight stay in a non-permanent structure (think tent, hammock, or quinzhee) with your troop, family, or Girl Scout sisters.
Every Girl in a Tent continues a strong tradition in camping and learning outdoor principles. This is your time to explore, discover and create new memories with your troop. That's precisely what Troop #76837 did when they set up camp right in their own backyard!
Troop leader, Jessica O., says her troop was eager to learn about the outdoors and decided to take action:
"My Junior troop worked on learning to pitch a tent, planned a camping menu, worked on how to clean up using the three bin method for dishes and held a tent camp out in my backyard to celebrate the end of their school year. We incorporated the tent camp as part of a larger virtual campout we organized as an end of school event with the rest of the troops at our school. With the virtual event (which was held earlier in the evening of our physical tent campout), my co-leader, Janet, led the girls in a presentation of Leave No Trace principles with all of the troops. It was definitely a night of memories and I'm sure the girls will never forget. We were so proud of how well they did!"
You still have time to camp under the stars just like Troop #76837! Head to www.gssem.org/patchprograms to learn more about the Every Girl in a Tent patch program.