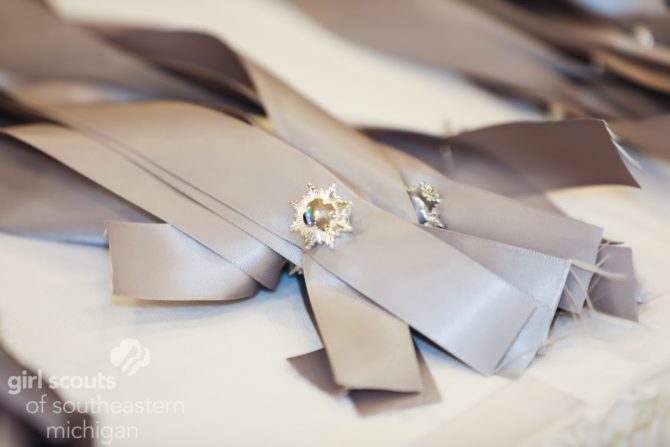 Girl Scout High Awards: Silver Award
How do you make the world a better place? By Taking Action! Cadette Girl Scouts now is your time to reach higher with the Silver Award!
The Girl Scout Silver Award represents a girl's accomplishments in Girl Scouting and in her community as she grows and works to improve her life and the lives of others. It's available for all Cadettes (6-8 grade).
To earn the Silver Award, girls must first complete one Cadette Girl Scout Journey. Next, identify an issue or concern in their community and work to research, develop and execute a project to tackle the issue. Girls can work in a small team of three to four, or they can work solo. You pick!
The Silver Award project is whatever you make it. It's your chance to make a positive impact in your own community and think outside the box, so get creative!
In the end you'll walk away with:
Developed skills and abilities that will allow you to successfully earn the Gold Award
Recognition as a future community leader
Support from the community
Networking opportunities as you explore potential careers and hobbies
Lessons in cooperation, leadership, and compromise
Self-reflection and improvement
Get started on your Silver Award today!
Congratulations to all of this year's Silver Awardees:
Abby Rush 70738
Abigail George 40325
Aibhlinn O'Hagan 70899
A'layah Williams 71789
Alessa Atallah 70738
Allison Edwards 30523
Amelianna Delagarza 71521
Anna Budry 75261
Anna Swank 75239
Anna Willis 70277
Annalisa Ventimiglia 76444
Aria Brown 74448
Ashlyn Mango J00006
Audrey Mullan 75239
Autumn Trottier 76444
Ava Ward 75239
Bella Ullom 75459
Bethany Grenzicki 74085
Brooklyn Rupert 76289
Candice Bowman 30077
Cardaja Harkins 89456
Carrington Boards 76847
Casey Grace Robins 70869
Cecilia Lawrence 70277
Charlotte Lenk 76289
Chelsea Kings 71521
Chloe Eden 48430
Clara Krawczyk 75459
Clare Majewski 73220
Clare Klueg 71143
Cora Kujawski 70277
Desirai Mitchell 75274
Destinee Hudson 89456
Eleanor Kroetsch 30523
Elena Rinkel 74642
Elise Kilbride 75261
Elizabeth Jones 74642
Emilee Breault 74642
Emily Hubbard J00007
Emily Schwartz 3286 / 76618
Emily Forbes J00009
Emma Richard 75261
Emma Trombley 40325
Erica Surratt 70277
Estafani Covarrubias 89290
Gabriella Kaiser 70085
Gabriella Tetler 40325
Ginger Gryzb 70031
Hadlee Meier 71330
Isabella Miller 76289
Jasmine Amara 76445
Jillian Wells 76083
Juliana Cortney 89290
Juliana Curtis 70085
Katelyn Kohn 70738
Katherine Nowak 71171
Kathryn White 40325
Katya Schmidt J00007
Kaylee Scheneman 74085
Kayt LaMothe 40325
Keegan Lorenz 74544
Keeley Brown 75459
Kelly Antosiewicz 40325
Kendall Jackson 71169
Kortney Bell 75343
Kylie Ann Jurkiw 70277
Lauren Wadie J00007
Lillian Armstrong 71169
Mackenzie Bennetts 71143
Madeline Lenk 76289
Madelyn Carrier 71171
Madelyn Dudde 71171
Margaret Bassett 70085
Mariah Donalson 89456
Marina Gerick 20414
Meghan Deskovitz 75239
Meredith Woodman 75343
Milani Hall 74642
Molly Levin 70791
Morgan Gunter 30805
Morgan Mayberry J00007
Nicole Watts 74642
Olivia Marie Wilson 70869
Olivia Peare 75927
Olivia Downey J00009
Paulette Scott 71169
Payten Van Every 74085
Rachel Lingerfelt 70277
Raegan Killebrew-Ross 70786
Raiven Mitchell 75274
Rebecca Miney 76289
Ruby Kantz 75343
Sara Lezotte 71227
Sarah Cromwell 74642
Shaylin Marie LeBlanc 70869
Sophia Hovanec 71330
Taylor Gildner 70085
Taylor Quinn 70869
Vivian Davis 71789