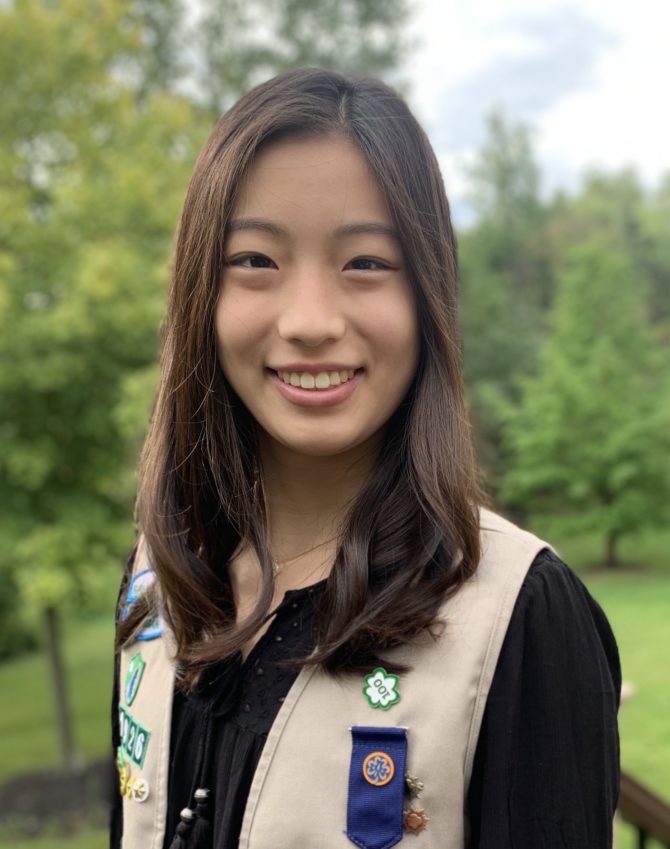 Gold Award Girl Scout Anna Shinohara
Girl Scouts of Southeastern Michigan honors Anna Shinohara with the most prestigious award in the world for girls: the Girl Scout Gold Award. Anna, of Novi, is among 19 young women who have taken the initiative to bettering their communities through sustainable community change projects. The time and commitment they've dedicated towards these projects prove they're true leaders and exceptional examples for all girls to look up to.
The Gold Award is Girl Scout's highest honor and is presented to Girl Scouts who address a community issue or problem they are passionate about. They're required to spend a minimum of 80 hours investigating the problem, creating a plan, and implementing it.
The goal of Anna's Gold Award project was to educate and inspire children at elementary schools to eat healthier. Realizing that the cause of nutritional deficiency is the lack of knowledge regarding healthy eating, she wanted to teach elementary students about nutrition and healthy eating so that good eating habits can develop at a young age and continue into the future. In order to do this, Anna focused on reaching out to young students in interactive ways by working with a local elementary school and their Gardening Group. She first set up a hydroponic wall garden at the elementary school with the help of the principal, which grows herbs and vegetables under the care of the school Gardening Group. She also taught a lesson with the high school garden club about balanced meals, and helped hold a cooking demonstration for elementary students. At the end, Anna put together and sent a Google folder with activity/project ideas and resources that connect to eating healthy for other school garden clubs to 50 elementary schools.
"The completion of my Gold Award helped me learn to be confident in myself, and persevere to overcome obstacles. Don't be afraid to reach out to people for advice in order to achieve your goals."
Anna is graduating from Novi High School. She is a member of Troop 41926.