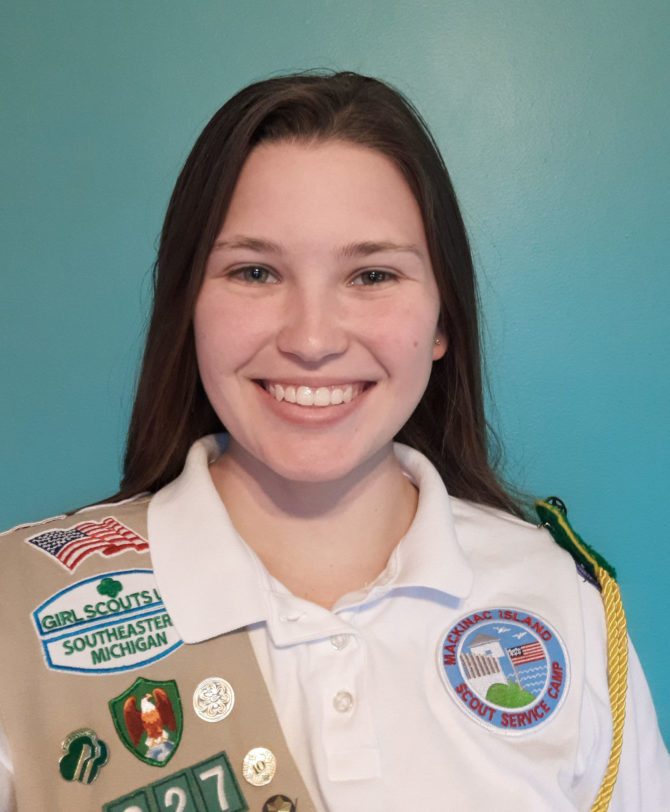 Gold Award Girl Scout Carissa Nelson
Girl Scouts of Southeastern Michigan honors Carissa Nelson with the most prestigious award in the world for girls: the Girl Scout Gold Award. Carissa, of Waterford, is among 19 young women who have taken the initiative to bettering their communities through sustainable community change projects. The time and commitment they've dedicated towards these projects prove they're true leaders and exceptional examples for all girls to look up to.
The Gold Award is Girl Scout's highest honor and is presented to Girl Scouts who address a community issue or problem they are passionate about. They're required to spend a minimum of 80 hours investigating the problem, creating a plan, and implementing it.
For her Gold Award project, Carissa created different resources for migraine sufferers and their families. She has been experiencing migraines since the age of eleven, making her the third generation to be diagnosed with migraines. While in high school, Carissa learned of her classmates also getting migraines, and decided she wanted to do something to help them. While working with professionals on the subject, she created a support group and electronic documents to share the basic and complex aspects as well as possible treatments and causes. Many have shared with Carissa how this information has changed their migraines for the better.
"The Gold Award has helped me build on skills I already had, and discover new skills that will be used in future education and professional life."
Carissa is graduating from Waterford Kettering High School and is a member of Troop 43681.