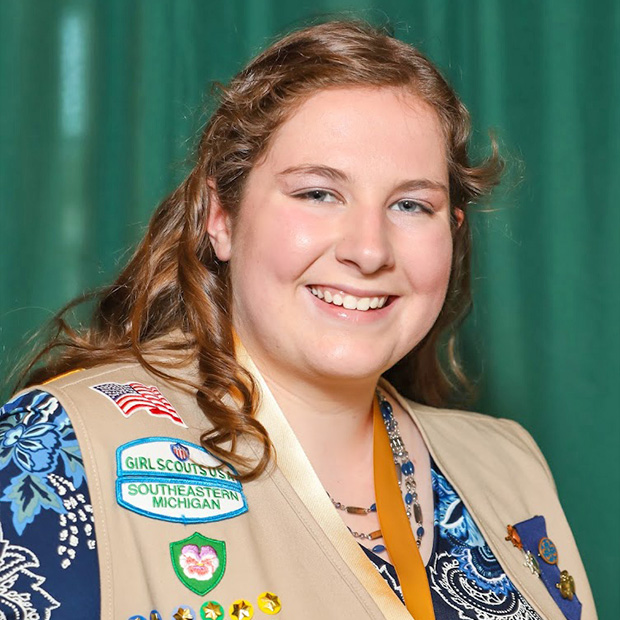 Gold Award Girl Scout Hannah Richard
Hannah Richard, a resident of Troy, is among 25 Girl Scouts honored by Girl Scouts of Southeastern Michigan with the Gold Award. Gold Award Girl Scouts are change agents who show leadership and citizenship skills that help them stand out among their peers by making a sustainable impact in their communities.
The Gold Award is presented to Girl Scouts who dedicate a minimum of 80 hours to addressing a community issue or problem through a sustainable community change project.
While studying for her driver's license, Richard learned many driver's education courses did not teach students how to respond if pulled over by authorities. After contacting the local police departments, Richard developed "The 3 R's: Relax, Respect, Respond" as a step-by-step video for drivers to follow during an officer-initiated traffic stop. The program has resulted in a generation of new drivers who know how to appropriately react in an officer-initiated traffic stop.
"Knowing how to properly respond during a traffic stop is important for us new drivers, said Richard. "I was happy to get the support from my teachers to share the video so that as many people as possible know proper protocol."
"I'm proud that I was able to complete my project by helping others gain an important skill."
According to a study on the impact of the Gold Award, by the Girl Scout Research Institute, Gold Award Girl Scouts display more positive life outcomes than non–Girl Scout alums including having a positive sense of self and greater life satisfaction, leadership, community service, and civic engagement. Some universities and colleges offer scholarships unique to Gold Award Girl Scouts, and girls who enlist in the U.S. Armed Forces may receive advanced rank in recognition of their achievement.
"Earning the Girl Scout Gold Award is truly a remarkable achievement, and these young women exemplify leadership in all its forms," said Denise Dalrymple, chief executive officer of GSSEM. "They saw a need in their communities and took action. Their extraordinary dedication, perseverance, and leadership are making the world a better place."