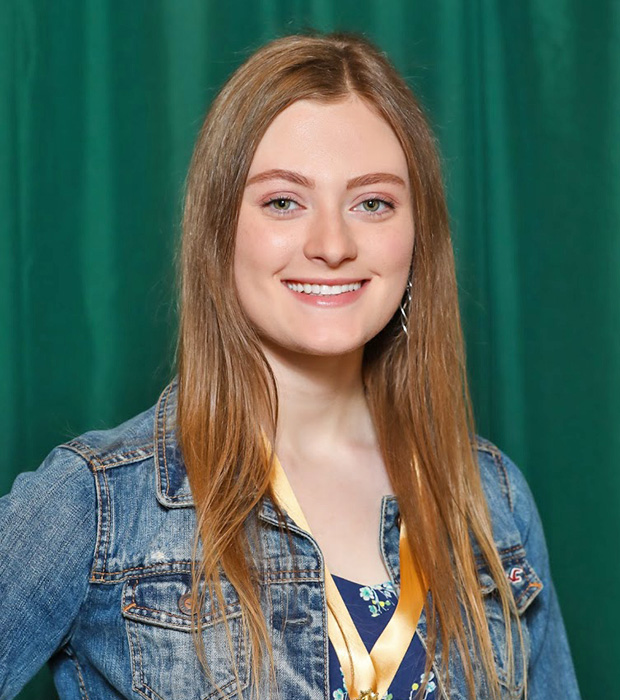 Gold Award Girl Scout Jaclyn Voyt
Jaclyn Voyt, a resident of Troy, is among 25 Girl Scouts honored by Girl Scouts of Southeastern Michigan with the Gold Award. Gold Award Girl Scouts are change agents who show leadership and citizenship skills that help them stand out among their peers by making a sustainable impact in their communities.
The Gold Award is presented to Girl Scouts who dedicate a minimum of 80 hours to addressing a community issue or problem through a sustainable community change project.
Voyt's Gold Award project raises awareness on the negative impacts of too much screen time on children. After seeing many young children with their eyes glued to their screens, she took action to educate parents on the ill effects of too much screen time and offered strategies to reduce it. She developed a resource manual that included recommendations from the American Academy of Pediatrics, a list of screen-free activities for kids, and other screen reduction strategies for parents. The manuals were distributed to physician's offices, schools, and local library. Additionally, she provided a brief article that will be printed in parent newsletters prior to Screen-Free Week and created a YouTube video providing a summary of her research.
"I hope the manual is used by everyone in the community to reduce the amount of time that children spend looking at screens," said Voyt.
"I'm proud that I was able to use my leadership skills to help make this project happen and even more proud that I one the Gold Award for my work."
According to a study on the impact of the Gold Award, by the Girl Scout Research Institute, Gold Award Girl Scouts display more positive life outcomes than non–Girl Scout alums including having a positive sense of self and greater life satisfaction, leadership, community service, and civic engagement. Some universities and colleges offer scholarships unique to Gold Award Girl Scouts, and girls who enlist in the U.S. Armed Forces may receive advanced rank in recognition of their achievement.
"Earning the Girl Scout Gold Award is truly a remarkable achievement, and these young women exemplify leadership in all its forms," said Denise Dalrymple, chief executive officer of GSSEM. "They saw a need in their communities and took action. Their extraordinary dedication, perseverance, and leadership are making the world a better place."