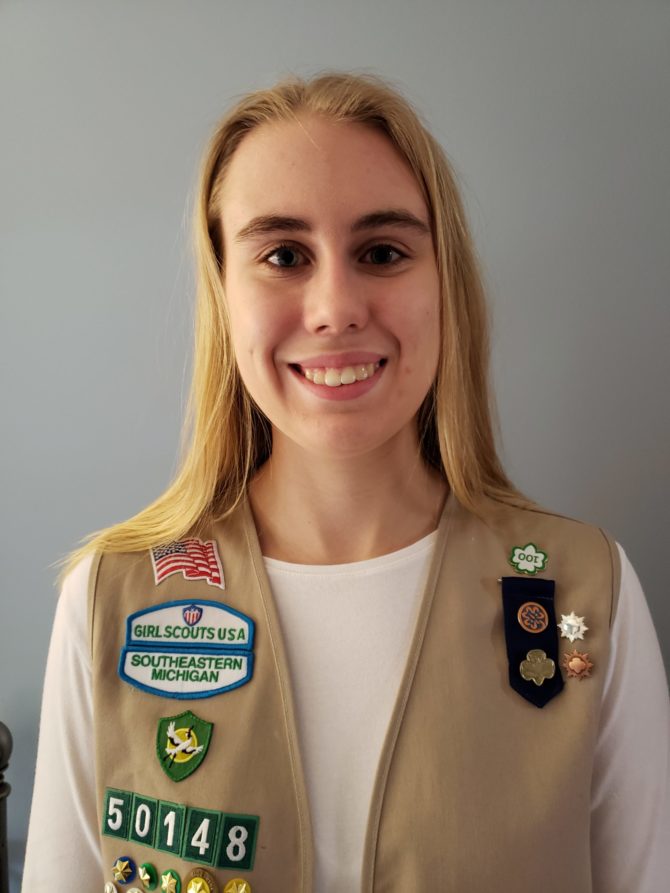 Gold Award Girl Scout Katie Decator
Girl Scouts of Southeastern Michigan honors Katie Decator with the most prestigious award in the world for girls: the Girl Scout Gold Award. Katie, of Saint Clair, is among 19 young women who have taken the initiative to bettering their communities through sustainable community change projects. The time and commitment they've dedicated towards these projects prove they're true leaders and exceptional examples for all girls to look up to.
The Gold Award is Girl Scout's highest honor and is presented to Girl Scouts who address a community issue or problem they are passionate about. They're required to spend a minimum of 80 hours investigating the problem, creating a plan, and implementing it.
For her Gold Award project, Katie created a resource that will be passed out to homeowners in Saint Clair County and shared online for everyone to use. She saw that flooding had become an issue in her community because the developed areas had made it difficult for storm water to soak into the ground, causing flooding, or worse, moved sediments and pollution into the St. Clair River. Katie worked with the Saint Clair County Drain Commissioner's Office to create pamphlets and a platform online where the county's residents could access easy-to-understand information on building a raingarden. The purpose behind this was/is to reduce flooding and pollution, but in a beautiful way.
"As I was doing my Gold Award project, I learned to be flexible and stay determined even when the times got tough. Not everything goes according to plan and that's okay."
Katie is graduating from Marysville High School and is a member of Troop 50148.