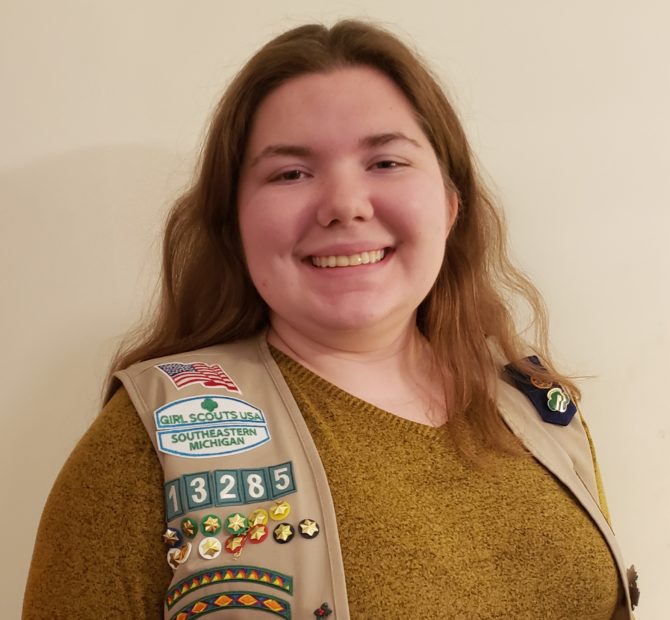 Gold Award Girl Scout Mikayla Stinde
Girl Scouts of Southeastern Michigan honors Mikayla Stinde with the most prestigious award in the world for girls: the Girl Scout Gold Award. Mikayla, of Holly, is among 19 young women who have taken the initiative to bettering their communities through sustainable community change projects. The time and commitment they've dedicated towards these projects prove they're true leaders and exceptional examples for all girls to look up to.
The Gold Award is Girl Scout's highest honor and is presented to Girl Scouts who address a community issue or problem they are passionate about. They're required to spend a minimum of 80 hours investigating the problem, creating a plan, and implementing it.
For her Gold Award project, Mikayla took action against food waste in the culinary industry. She attended the culinary class at Oakland School's Technical Campus the year prior, and decided this would be the best place to introduce her project. She was encouraged by her instructor to focus on issue of food waste in the culinary industry. Mikayla's project had her participants working hands-on with composting their produce so they would understand the importance of their efforts. She worked to produce a connection between the Culinary class and the Agri-Science class at the campus. She hopes that her project will continue for years to come.
"My Gold Award project helped me learn people and time management skills. I found out that through hard work, learning from my own mistakes, and persistence, I could accomplish anything I put my mind to!"
Mikayla graduated from Holly High School and is currently attending Albion College. She is a member of Troop 13285.