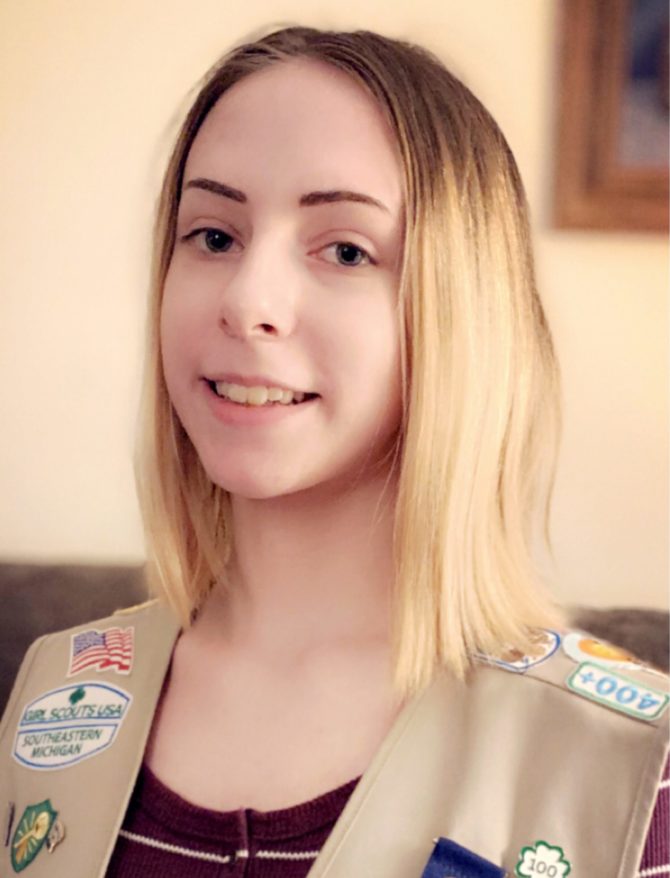 Gold Award Girl Scout Miranda Raich
Girl Scouts of Southeastern Michigan honors Miranda Raich with the most prestigious award in the world for girls: the Girl Scout Gold Award. Miranda, of Taylor, is among 19 young women who have taken the initiative to bettering their communities through sustainable community change projects. The time and commitment they've dedicated towards these projects prove they're true leaders and exceptional examples for all girls to look up to.
The Gold Award is Girl Scout's highest honor and is presented to Girl Scouts who address a community issue or problem they are passionate about. They're required to spend a minimum of 80 hours investigating the problem, creating a plan, and implementing it.
For her Gold Award project, Miranda organized three ceremonies at each of Taylor's cemeteries on Veteran's Day, to honor the fallen heroes. She wanted to address the issues of deceased veterans being forgotten due to no living family members, and no one honoring them. Many of them no longer had family in the area, and the Taylor Veteran's Museum had previously placed flags on their graves, but never held a ceremony in the cemeteries. In fact, the last time any flags had been placed was at least six years ago. Some of the graves were also in disarray and the "veteran's grave directory" that the City Clerk's office had, was last updated in 2013 by hand and was very hard to read. Miranda addressed the issue by inviting city officials and residents to the ceremonies at the three cemeteries on Veterans Day. She re-organized the grave directory to help with correctly placing flags on the veterans' graves. The ceremonies included playing "Taps" and placing American flags on the veterans' graves, along with a ceremony thanking them for their sacrifices. Following the event, she passed along the updated grave directory, a copy of the ceremony program, and 100 donated American flags to the Veteran's Museum to use for future veteran events. Her project advisor, City Clerk Cindy Bower, also saw the horrible condition that some of the graves were in, and is now applying for grants to help fix up Taylor's cemeteries. She will make sure that their final resting place is maintained and will continue with her yearly cemetery cleanups.
"I am capable of more than I give myself credit for. One person can truly make a difference."