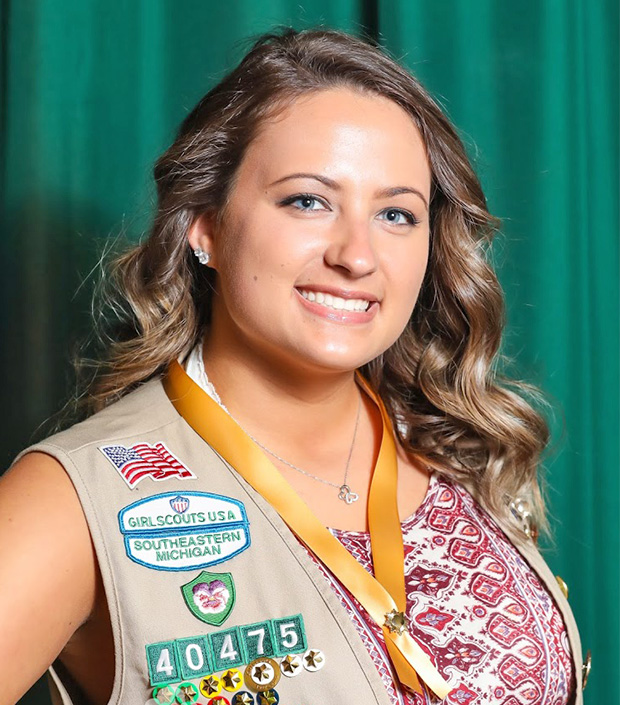 Gold Award Girl Scout Taylor Weingarden
Taylor Weingarden, a resident of Rochester Hills, is among 25 Girl Scouts honored by Girl Scouts of Southeastern Michigan with the Gold Award. Gold Award Girl Scouts are change agents who show leadership and citizenship skills that help them stand out among their peers by making a sustainable impact in their communities.
The Gold Award is Girl Scouts' highest honor and is presented to Girl Scouts who dedicate a minimum of 80 hours to addressing a community issue or problem through a sustainable community change project.
Weingarden used her Gold Award project to create a safe space at Hart Middle School. She worked with faculty members and clubs in the school to renovate school restrooms and personalize building doors with motivational quotes and emergency hotline information. Her project was inspired by her own experience in middle school where she realized how destructive body-shaming comments could be to students. Students also had access to emergency resources and motivation to succeed in their academic life. Weingarden's program helped create a bully-free zone at the school.
"I've seen how bullying affects students, so it was a goal for to me to focus my Gold Award project on anti-bullying & suicide prevention," said Weingarden.
"It was important for me to make a difference in my community and I'm happy I was able to do it with an anti-bullying program."
According to a study on the impact of the Gold Award, by the Girl Scout Research Institute, Gold Award Girl Scouts display more positive life outcomes than non–Girl Scout alums including having a positive sense of self and greater life satisfaction, leadership, community service, and civic engagement. Some universities and colleges offer scholarships unique to Gold Award Girl Scouts, and girls who enlist in the U.S. Armed Forces may receive advanced rank in recognition of their achievement.
"Earning the Girl Scout Gold Award is truly a remarkable achievement, and these young women exemplify leadership in all its forms," said Denise Dalrymple, chief executive officer of GSSEM. "They saw a need in their communities and took action. Their extraordinary dedication, perseverance, and leadership are making the world a better place."