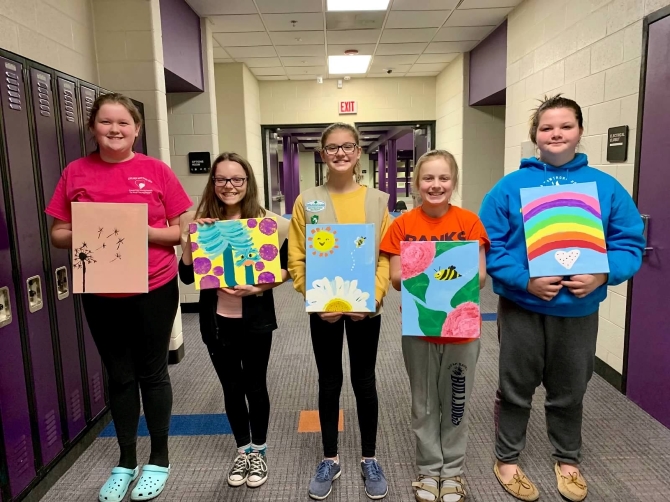 Girl Scouts Donate Original Artwork for Hospice Patients to Local Facility
The Residence of Arbor Hospice unveiled artwork created by Girl Scout Troop 71223 of Wixom, MI on Tuesday, March 3, at their facility located in Saline.
The troop of eight 13-year-old, 8th grade Girl Scout Cadettes painted artwork in partnership with the nonprofit Art for Hospice, an organization designed to share art created by young students with individuals suffering from debilitating conditions.  The girls — Nicole Yapp, Lanie Burkmyre, Peyton DesJardin, Brie Woodman, Sydney Alexander, Megan Hill, Lauren Proper and Lilly O'Connell—chose the Art for Hospice project because they like to do philanthropic activities as a troop. 
"I found Art for Hospice online," said Michelle Burkmyre, who co-leads the troop with fellow Girl Scout volunteer Denise Yapp. "We learned more about the organization and the work they do, and Art for Hospice sent us blank canvases for the girls to paint." Burkmyre said the troop had difficulty locating a facility that would take the paintings until The Residence at Arbor Hospice made a space just for the troop's artwork. The paintings will be displayed in the lobby/common area, and patients can select a canvas to hang in their room during their stay.
"We are deeply touched by the compassion of the members of Troop 71223 to pursue this badge, and are honored that they reached out to us. Their art will lend a special touch to The Residence of Arbor Hospice that will be deeply appreciated by all who walk through our doors," said Kelly Wicker, Operations Manager, The Residence of Arbor Hospice.
Each girl painted her canvas with imagery of what she thought would make someone that is sick a little happier. "I liked how creative we could be and how we were doing good things for people," said Lanie Burkmyre. "I want patients and their families to feel joy, happiness, and calm when they look at my art in their rooms," continued Nicole Yapp.
According to the Girl Scout Research Institute, 79 percent of Girl Scouts participate in civic engagement activities such as volunteering or community service, compared with just 37 percent of non-Girl Scouts.
Denise Yapp said the troop also asked Art for Hospice to develop a special Girl Scout fun patch in hopes it will encourage more Girl Scouts to paint for hospice patients. "I like that the girls can be a part of making someone's last days happy by looking at a painting," she concluded.