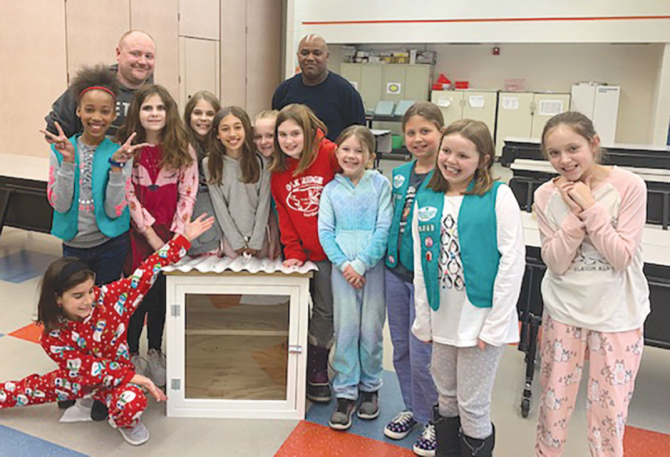 Royal Oak Troop Create Food Pantry to Serve Community
On June 22, the Royal Oak City Commission unanimously granted approval for Girl Scout Troop 76249, based out of Oak Ridge Elementary School, to place its Little Free Pantry on city property.
Employees from Lowe's donated their time and supplies to help the 14-member Girl Scout troop construct the stand-alone food pantry after school. The project will fulfill requirements for the troop's Agent of Change badge.
The city approved two resolutions — one to waive the formal license agreement or insurance generally required to place any kind of structure on city property, and one to approve the installation of the Little Free Pantry on a site to be determined and approved by City Manager Paul Brake.
"The pantry consists of nonperishable foods and toiletries that would be available to the community," Brake said. "This provides not only a community good, but also a nice life learning project for these students."
Troop co-leader Tessa Benziger said the girls brainstormed and voted on which issues piqued their interest most — homelessness and food scarcity — and came up with the idea of a Little Free Pantry, similar to a Little Free Library, on their own.
Olivia Till, 10, of Royal Oak, said the troop began brainstorming ideas for the badge in January, built the Little Free Pantry and were going to paint it, but then got stuck in quarantine, so they began meeting virtually to discuss where and how to place it.
"We haven't decided (if we're going to paint it) yet, but we might figure out a way we can decorate it," she said. "It was nice to learn how to be a better person in our community, and it was very fun because we were doing things like that together."
Penelope Steigelman, 9, of Royal Oak, said the girls began working on the Agent of Change badge after completing a different badge, and they originally considered the idea of hosting a soup kitchen, but that would only serve people for a day.
"We thought of things that could help homelessness and put a dent in history. The food pantry will stay there as long as it holds up," said Steigelman. "It was actually really, really fun."
Benziger said the Lowe's employees who helped the troop construct the pantry were excellent teachers, guiding and educating the girls through each step and supervising their use of power tools.
"I think they felt pretty empowered. The girls are really encouraged to make the decisions," Benziger said. "It actually has taken all year to earn the badge."
Prior to coming up with the "take action" part of earning the Agent of Change badge, the troop learned about the power of one person, the power of a team and the power of community.
The troop formed when the girls were in second grade; they will enter fifth grade this fall.
The girls wanted to put the pantry on city property where foot traffic would make the pantry known to people in need and inspire people to donate to it.
Mayor Pro Tem Patricia Paruch praised and congratulated the handful of Girl Scouts who remotely tuned in to the virtual June 22 City Commission meeting. Each Girl Scout spoke in favor of the city approving their project.
"I was a Girl Scout a very, very long time ago, and I remember having to earn badges for cooking or for sewing or for other kinds of domestic things that back in the day women were expected to do," Paruch said. "A lot has changed in the last decades, thankfully, and I just have to say as a former Girl Scout that I am just so proud of you guys."
Commissioner Melanie Macey said she hoped the girls could receive a public speaking badge, while Mayor Michael Fournier said he thought they deserved a lobbying badge.
"I'm very thankful as your neighbor that you guys have proposed this," Fournier said. "Tonight, you guys are inspiring me. You are the example that I want to live up to tonight."
The exact location for the Little Free Pantry had not yet been decided as of press time.
For more information, call Royal Oak City Hall at (248) 246-3000.
This article was written by Sarah Wojcik from the Royal Oak Review.
How has the Girl Scout in your life served her community? Tell us all about it! Communications@gssem.org