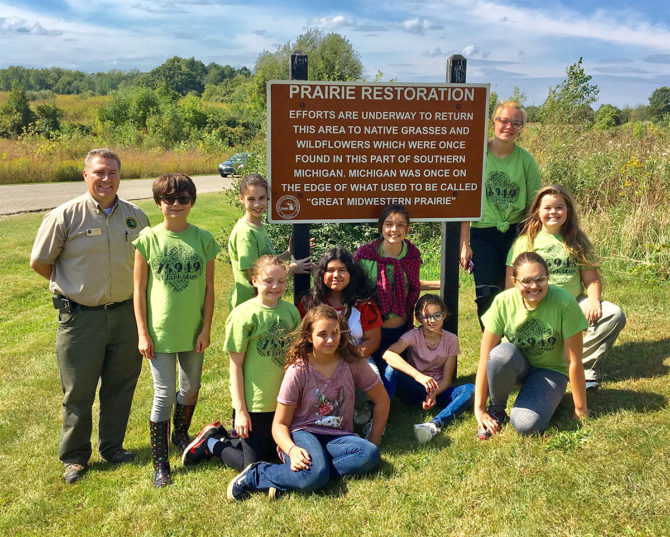 Troop 75949 participated in Stewardship Day at Seven Lakes State Park this Year
One of the main pillars of Girl Scouts has always been the outdoors. There are new #GO challenges, camps, and weekend events throughout the year to guarantee girls have the ability to #getoutdoors and have fun! It's so important to completely disconnect and learn about the environment. Troop 75949 is a great example of girls taking charge and getting outdoors as they participated in Stewardship Day at Seven Lakes State Park this year.
For those that don't know, Stewardship Day is all about conserving natural resources, combatting pollution, and protecting biodiversity. Something we should be doing on daily basis. This is our home!
For the last three years, several girls in Troop 75949 have volunteered their time in service to the Michigan Department of Natural Resources (DNR). They usually sign up for the Girl Scout-sponsored Stewardship Day, but this year, the event was unfortunately canceled. Rather than wait for the rescheduled time in spring, Troop 75949 called around to various DNR locations that were in close proximity to their troop. Talk about being Go-Getters! Seven Lakes State Park was eager to have them help out. This State Park is currently working on Prairie Restoration, so everyone spent several hours collecting seeds from prairie grass that would be distributed in other areas of the park to foster the growth of prairie grass.
There is a sign on the property that further explains this cause: "Efforts are underway to return this area to native grasses and wildflowers which were once found in this part of southern Michigan. Michigan was once on the edge of what used to be called 'Great Midwestern Prairie.'"
Several of the area wildlife rely on the prairie grass for their natural habitat. As the grasses go away, more and more wildlife is moving from the area to find other resources that are more conducive to their needs. Back in 2010, Habitat | Oakland County Pheasants Forever began work with Seven Lakes State Park to restore the prairie grass.
As a troop, they collected several full-size Kroger bags of seeds, patches, medals, and a sense of pride knowing all the good they did that day.
Way to go, Troop 75949!
Here are a few ways YOU can protect the earth, too:
Volunteer at your local state park
Inform others about protecting the earth on social media
Plant a tree
Never litter
Recycle, recycle, recycle!
Check the calendar at gssem.org/calendar for the next Stewardship Day!
Photo: DNR Officer, Andrew Cole, pictured with Troop 75949