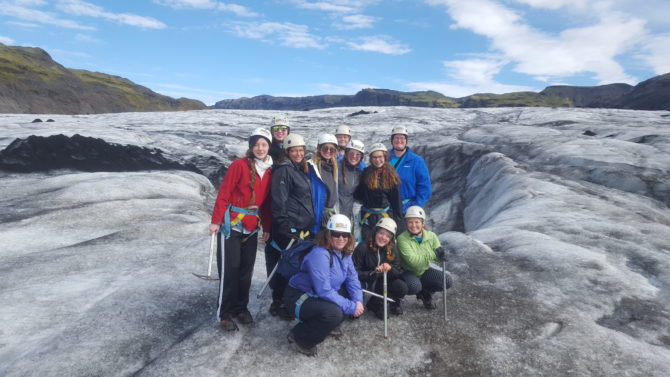 As you always hear, the best part of Girl Scouts is the fact that girls are in charge of their own leadership experience. So, what one may troop may focus on, may completely differ from what another troop does.
We sat down with Holly Wolfe, a local Travel Troop Coordinator, who takes Girl Scouts all around the world. Take an inside look at her Girl Scout journey and some of the things her troop is up to!
GSSEM: How did you get involved in Girl Scouts?
HOLLY: I was a Girl Scout from 1st through 7th grade growing up, then moved and didn't join another troop. When my daughter started Kindergarten, I knew I wanted her to have some of the experiences I had growing up in Girl Scouts. As the girls in the troop got older, travel became a desire for most of them. While my daughter has since graduated, I still enjoy helping girls grow and love to see them light up as they have new experiences like being on an airplane for the first time, seeing famous landmarks, and eating gelato in Italy.
GSSEM: What is a Travel Troop?
HOLLY: We are a secondary troop. Girls are registered in their primary troop or as a Juliette. The sole purpose of our troop is to earn money in order to travel internationally.
GSSEM: What do you do at the workshops? Why did you start them?
HOLLY: We run a lot of events! Most of them are journey in a day workshops. The girls and adults look through the basics of a journey, determine how to make the activities fun, and then plan the event from start to finish. We started them as a way for the girls to earn the journeys and realized they are a great way to raise money for our travels.
GSSEM: Which international cities have you visited as it relates to Girl Scouts?
HOLLY: In 2015, we started in Glasgow, Scotland for three days on our own. We then traveled to London to join with our Education First (EF) Tour group. From London, we visited Paris, Rome, Pompeii, and Capri. On this trip, we saw a lot of the famous tourist sites. Everyone absolutely loved it.
In 2017, we traveled to Iceland. We stayed at the northernmost scout camp in the world – Úlfjótsvatn Scout Centre. We had a lovely view while we camped. We did a lot more nature oriented activities here. We also hiked on a glacier and climbed on the basalt columns at black sand beach.
GSSEM: Which has been your favorite so far?
HOLLY: Iceland was my favorite – I personally prefer the nature activities and smaller towns versus the big touristy destinations. One of the fun things about this trip – nothing quite went as planned. We were supposed to stay at the Scout Centre for six nights. However, they had a norovirus outbreak & closed the camp, so we there for only two nights. Luckily, no one from our group got sick. While we didn't get quite the experience we originally planned, we were able to connect with other scouts and see more of the country. Icelandic Scouts were very hospitable – taking on us outings, cooking us meals, letting us borrow tents, and so much more. Overall, we had two nights in Reykjavik on our own, two nights camping outside a hostel in Hafnarfjörður where a Viking festival was going on, two nights at the Scout Centre, and two nights at a scout house in Mosfellsbær.
The girls were fantastic – able to roll with all the changes! They even created a camp song all about norovirus.
L-O-L. And now we are planning on going back to Iceland in 2021!
GSSEM: Anything else you want to share?
HOLLY: Being a Travel Troop Coordinator is super rewarding. I get to see the girls grow in their leadership skills as well as see them try things for the first time. We have had so many new and fun experiences! We are currently scheduled to go to Europe in July of 2020 with tour group Explorica – Italy, Germany, Switzerland – then we added a couple days to visit Our Chalet. Also in the works for 2021 is a trip to Iceland (the girls who went loved it so much they have convinced new girls they have to go!)