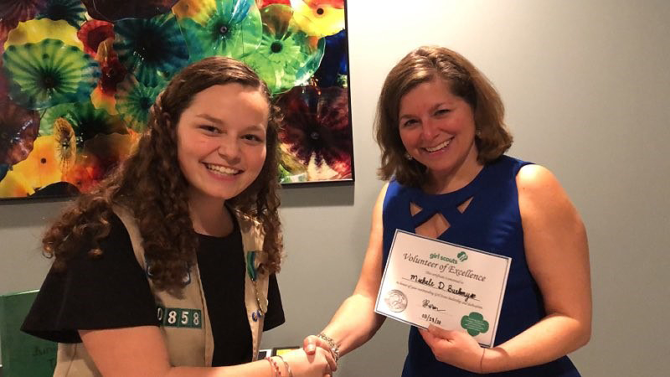 From a Party of 500, to a Party of Four
So by now it's pretty obvious that things have gone far beyond what anyone has expected. Not too long ago everyone was living life as usual, getting ready for springtime to make its grand appearance. One volunteer in particular, Michele Burkmyre, was really looking forward to the Volunteer National Awards (VNA), which was supposed to be held late last month.
Michele is a longtime troop mom with two girls, Sophia and Lanie, both currently in Girl Scouts. GSSEM holds the VNA every year to honor and acknowledge volunteers like Michele that make Girl Scouts the leadership program that it is, so it was pretty disappointing to all that it had to cancel.
However little did Michele know, her family was planning an intimate celebration of their own in light of everything going on.
During this time of social distancing, the Burkmyres decided they'd have theme nights during dinner to keep things fun at home. Among them were "Prince and Princess Night," "Pirate Night," and a "Formal Night." For "Formal Night," Michele got dressed to fit the theme as usual and proceeded to make her way to join her family for dinner…
Imagine her surprise as she walked into a completely transformed dining room decorated with photos, Girl Scout cookies and a message on the TV screen saying "Volunteer of Excellence Award." Even though the VNA was canceled, her family remembered, and wanted to make her feel special regardless.
Sophia and Lanie—with the help of dad too—put together a slide show documenting Michele's entire time as troop leader. They wore their Girl Scouts vests and created a pin and a signed certificate for their mom to show off to the world. To create even more of a tear-jerker experience, the girls turned their music stand into a podium and each member of the family went up and told stories about how great of troop leader and mom she is.
Kleenex, anyone?
Times like this is when we lean on family the most, so it's amazing to hear about the impact that volunteers have on their families, and communities as a whole. If you didn't know, April is National Volunteer Appreciation Month. Show the troop mom, leader, Service Unit manager, etc. in your life that you're thinking of them.
To all of the Micheles in our council: THANK YOU!