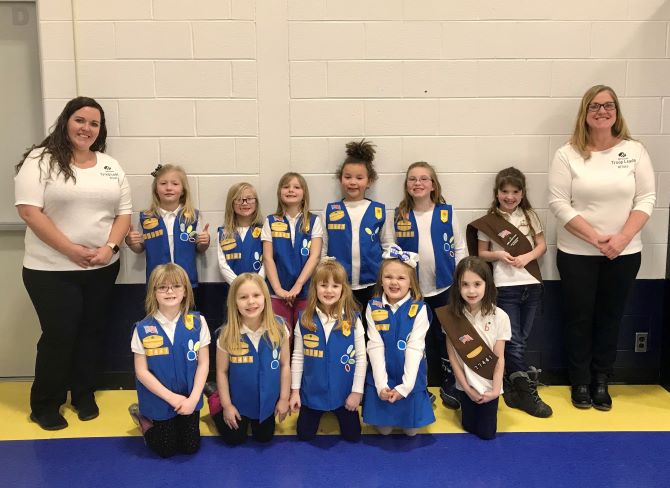 Volunteer Spotlight: Julie Parmann & Stephanie Martiny
Everyone, meet two of our newest troop leaders: Julie and Stephanie. Word on the street is that their troop is "ON FIRE!!!" The dynamic duo started Troop #77441 this past fall and they've already gone above and beyond, making them exceptional examples of what it takes to lead a troop.
For all of those wondering what inspired them to start a troop and how the experience has been thus far… We picked their brains for you! Check it out:
GSSEM: I understand you're new GS troop leaders. What made you begin this journey?
JULIE: My daughter came home from school and said she could join Boy Scouts. Luckily, the next day she came home with a Girl Scout Flyer! We were beyond excited to start the journey, but there wasn't a troop at Thomas Edison Elem., so Stephanie and I both jumped in feet first and started a troop so our girls could be in Girl Scouts.
STEPHANIE: Yes, this is my first year as a leader. My daughter wanted to be involved in Girl Scouts, but we didn't have a troop at our school, so this was the perfect opportunity.
GSSEM: Were you a Girl Scout growing up?
JULIE: I was a Girl Scout as a girl! I was the youngest of three, and by the time it was my turn to join Girl Scouts, my mom (the troop leader) had sizzled out. My grandmother was a Girl Scout troop leader, my mother was a Girl Scout troop leader, so it seemed only fitting I too become a troop leader. It just all fell so perfectly into place.
STEPHANIE: Yes, I was a Girl Scout up until I was a Junior. I have great memories of it!
GSSEM: What is your favorite part about being a troop leader?
JULIE: I love watching the girls' values and morals grow, as well as their relationships. My daughter will move mountains to ensure she doesn't miss Girl Scouts. Her commitment to the program at just seven years old is absolutely amazing! Also, watching the girls accomplish their goals each and every week is the highlight of my week!
STEPHANIE: My favorite part is seeing the girls grow as they continuously learn values that will help them throughout the year and into the future.
GSSEM: What current goals do you have for your troop?
JULIE: I'd say my goal is to help facilitate and guide the growth of each and every girl throughout the year, in hopes of growing together to create the most amazing bond these girls will keep for their lifetime.
STEPHANIE: My goal for this troop is to build momentum; we have a great group of girls, very active parents, so I just want to continue that while giving these girls some amazing experiences.
GSSEM: Any advice for aspiring troop leaders?
JULIE: My advice…. If you want to get involved, go for it! You will learn so much, you will make mistakes, but you yourself will grow along with these amazing, young ladies!
STEPHANIE: My advice is if you're at all interested—get involved. It can be very overwhelming and you're sure to make some mistakes. Just keep the girls and the promise in mind and keep going.
GSSEM: Anything else you'd like to add?
JULIE & STEPHANIE: Our troop is absolutely amazing! The girls are beyond dedicated to growing, learning, and most importantly: to each other! This year has been an absolute whirlwind. Just when we think we have a minute to breath, we have ten things coming up on our heels to get through. We wouldn't want it any other way, it's been such a wonderful experience so far. We're all enjoying the ride!
Thank you, again Julie and Stephanie! Your dedication to the Girl Scout program does not go unnoticed.